FIFA World Cup 2010 is the 19th FIFA World Cup, the premier international football tournament. It is start from 11 June 2010 to 11 July 2010 In South Africa. World Cup is held once in 4 years. This international events brings intention from over the world. Many people will watch this events. Therefore it will need a very good technology infrastructure.
So how technology roles in World Cup 2010? South Africa has made significant investments into its information and communication technology (ICT) infrastructure in a bid to meet commitments, guaranteed by the Department of Communications, as part of the country's hosting of the 2010 FIFA World Cup. These guarantees cover the provision of connections between the public telecommunications exchanges of Telkom SA, Africa's largest integrated communications company, and the ten stadiums, as well as the high-technology International Broadcast Centre (IBC), in Johannesburg.
And for the first time in the history for World Cup, World Cup 2010 games will be broadcast with 3D technology. This technology is brought by Sony. Up to 25 of the games will be captured using 3D cameras, football's governing body FIFA said. This 3D technology set-ups use two-camera systems to record images tailored specifically for the left and right eye of the viewer. Special polarized glasses are then used to view the image.
See the screenshot below to get more details how this 3D technology works: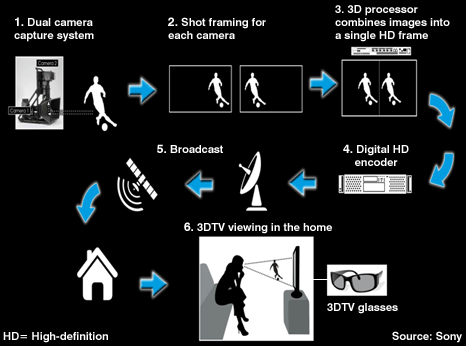 FIFA World Cup 2010 will start in 11 June 2010, so who is your favorite team?