When you buy a new brand PC or laptop, you were told by the seller about the specification of your PC or laptop. But how do you if it is true or not? Or maybe you want to know your full hardware information for some reasons. There are a coupe of tools that describe below to get your system information, hardware specification, system status, hardware temperature status, battery status and so on. So when you testing your laptop or PC before you pay it, make sure you check it first.
Tools to monitor your hardware information and status in Windows
1. MsInfo32
Well this is the built in function of Windows to get your system information. To run this you can use Windows + R and type "msinfo32″ (without quotes) and then press Enter or Ok button. Soon there will be a windows pop up with your hardware and system information.
2. CPU-Z
CPU-Z is a freeware that gathers information on some of the main devices of your system. Here the list of what you can get from CPU-Z:
CPU:
* Name and number.
* Core stepping and process.
* Package.
* Core voltage.
* Internal and external clocks, clock multiplier.
* Supported instruction sets.
* Cache information.
Mainboard:
* Vendor, model and revision.
* BIOS model and date.
* Chipset (northbridge and southbridge) and sensor.
* Graphic interface.
Memory:
* Frequency and timings.
* Module(s) specification using SPD (Serial Presence Detect) : vendor, serial number, timings table.
System:
* Windows and DirectX version.

Download CPU-Z
3. HWiNFO32
HWiNFO32™ are professional hardware information and diagnostic tools supporting latest components, industry technologies and standards. Both tools are designed to collect and present the maximum amount of information possible about computer's hardware which makes them suitable for users searching for driver updates, computer manufacturers, system integrators and technical experts as well. Retrieved information is presented in a logical and easily understandable form and can be exported into various types of reports.
HWiNFO32™ features:
* Comprehensive hardware information
* System health monitoring (Thermal, Voltage, Fan, Power)
* Table, Logfile, Graph, Tray, Gadget, LG LCD reporting
* Basic benchmarks
* Text, CSV, XML, HTML, MHTML report formats
* Periodical updates
* Windows 9x/2000/XP/Vista/Server 2003/2008/Windows 7
* Platform: 32-bit (IA-32), 64-bit (x64, IA-64)
* Available as HWiNFO32 SDK (Custom Client) !
* Freeware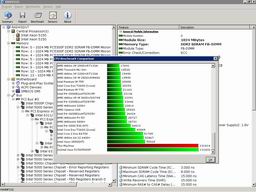 Download HWiNFO32™