Image resizer tools is one of the most frequently use by me. Most of the Image processing software have this feature, such as ACD See or Adobe Photoshop. But with those tools you have to open the application and then resize the images.
To simplified the idea, Powertoys come with simple steps to resize the image. Just with one right click and then fill the size you need, and you got your image resized. Very simple, light and doesn't need a big software to do that. But unfortunately Powertoys only works for Windows Xp. Powertoys stop it's support for Windows Vista and Windows 7.
After digging a while, i finally found a Powertoys clone, and it support Windows Vista and Windows 7! It is in CodePlex developed by BriceLambson. What it does is just the same as Powertoys from Windows Xp. It allows you to right-click on one or more image files in Windows Explorer to resize the images. Plus it is extended to support 32 bit and 64 bit version of Windows 2000, Vista and Windows 7.
Screenshots: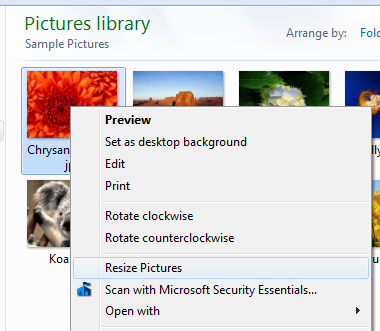 Download Image Resizer Powertoy Clone for Windows.