Recently i found that some of my friends send me an email asking to see an important document in Google Drive. The title would say "Kindly Review The Uploaded Document"  and here is the content of the email:
Hello,

please see this it's very important  

https://drive.google.com/  and sign in to view 

It's very important

Kind regards
Please see the screenshot below: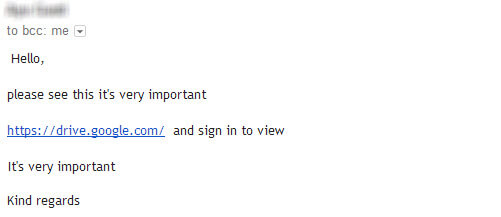 The email sent to me as bcc as my contacts, so i thought it might be something important. But i'm shock when i click the link, it goes to a website and ask Google account password. I did a report to Google as the phishing website. So if you found a message like this, please ignore it and delete it at once.
And in the future if any website asking your Google account password, please verified it before you give it. And you can activate Google 2 steps verification and do this Gmail security checklist.
Stay safe and stay secured.