I create my own themes for this blog, the themes code name is CodeManiac. And this themes already version 1.1, since it released from April 2010. A lot of fixes with the features and designs. And also i have added some new functions to the themes. And if you realize, i have install Facebook social plugin, so if you like my article you can submit to become a fans for this blog on Facebook, to get earlier notification for post update.
Anyway, what i want to share with you now is should i optimize my blog for Internet Explorer? I like Mozilla Firefox the most as my browser and Google Chrome come second. And from the Google Analytic data, most of my visitors to this blog are using Firefox (maybe you are one of them).
A couple days ago I got a message from my visitor that said my page is loading slower in Internet Explorer 8 rather than Firefox 3.6. And when i try i feel the same too. And i went to Google Analytics data, and found out that only 14.10% of my visitors using Internet Explorer. Mozilla Firefox come first with 54.92% and Google Chrome with 20.50%.
See the Google Analytics screenshot below for more details: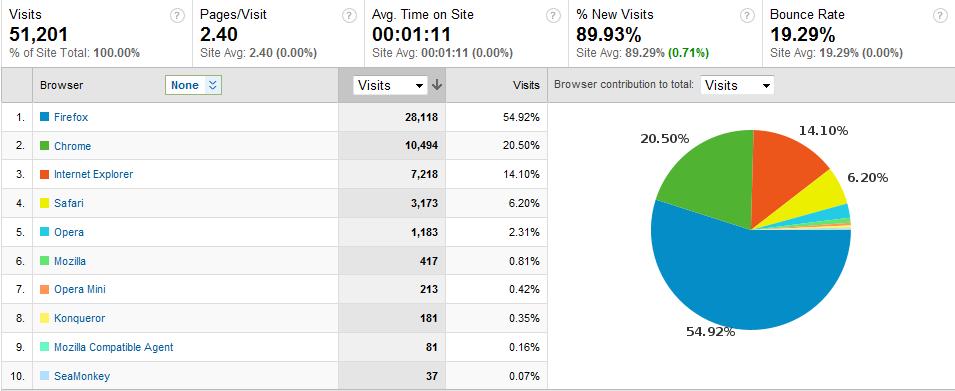 So my point is, is it worthy for me to optimize my blog for Internet Explorer? Until now i haven't decided yet. I want my blog look good and provide better experience for my user. But as i know to optimize a blog for Internet Explorer compatible need many efforts and time consuming. And as my experience it will effect (reduce) the overall performance.
If you have a better experiences or have any comment, please i need your suggestion by leaving any comment below. Thanks.